Class 5F (Mrs Foster)
We have made a great start and have many exciting learning opportunities to share with you. We aim to be PREPARED before every lesson and have our pen (plus a spare, just in case...), a sharp pencil and ruler, in order to be PRODUCTIVE in the lesson and so prove PROGRESS!
Meet the stars of the class...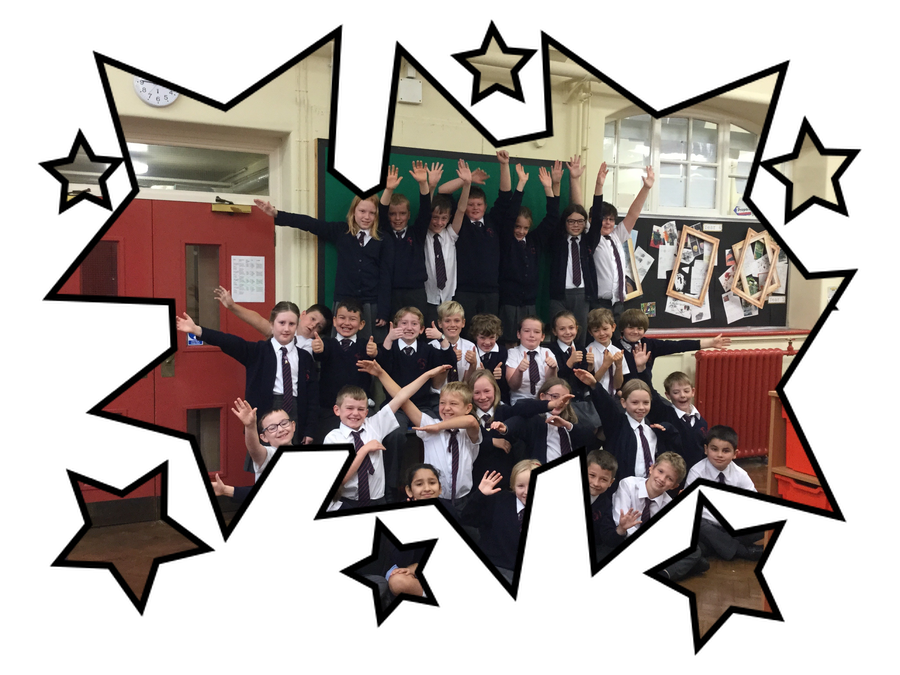 Clarinet Concert - 24.3.17
Well done Year 5 for a fantastic concert showing everyone your clarinet playing skills and singing.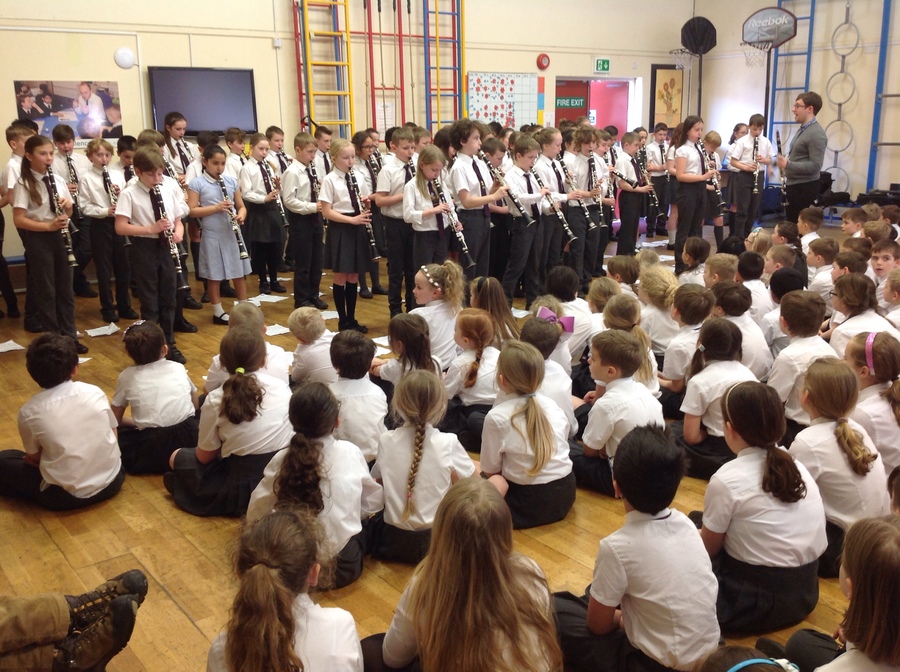 Science at Wellacre (14.3.17)
A big thank you to Mr Asha and his science ambassadors for giving our class brilliant scientific challenges!
RE Day - 13.3.17 - Celebrating the Festival of Holi
Here are some images from the day:
Inspired art work using brusho paint and rangoli patterns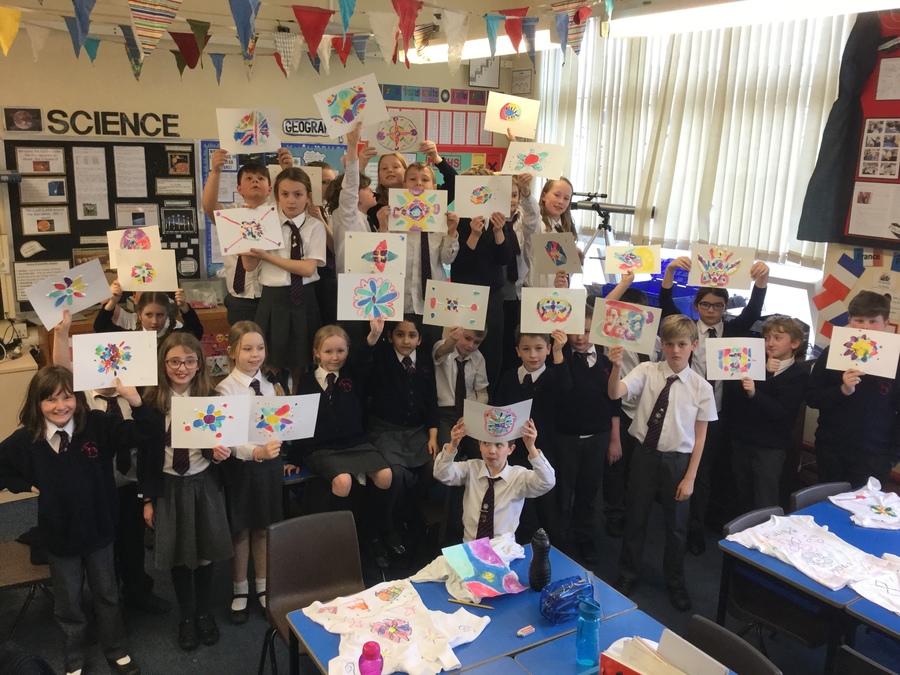 Using geographical skills to locate the different areas within India and how they celebrate the Holi Festival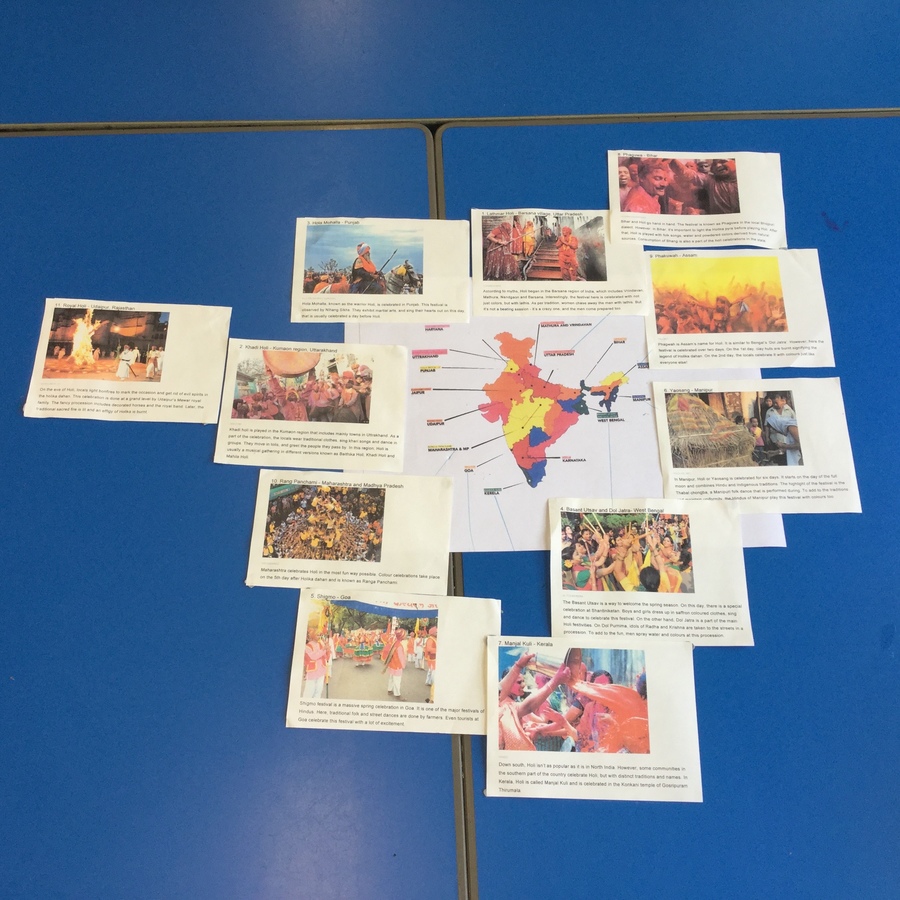 Designing a colourful t-shirt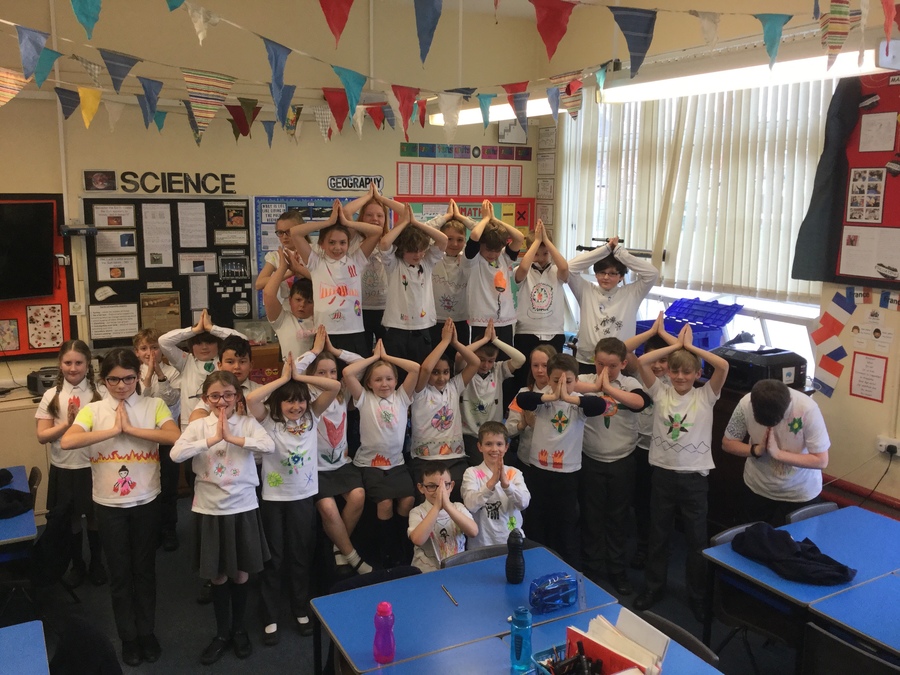 Finding out more about the festival and the Hindu religion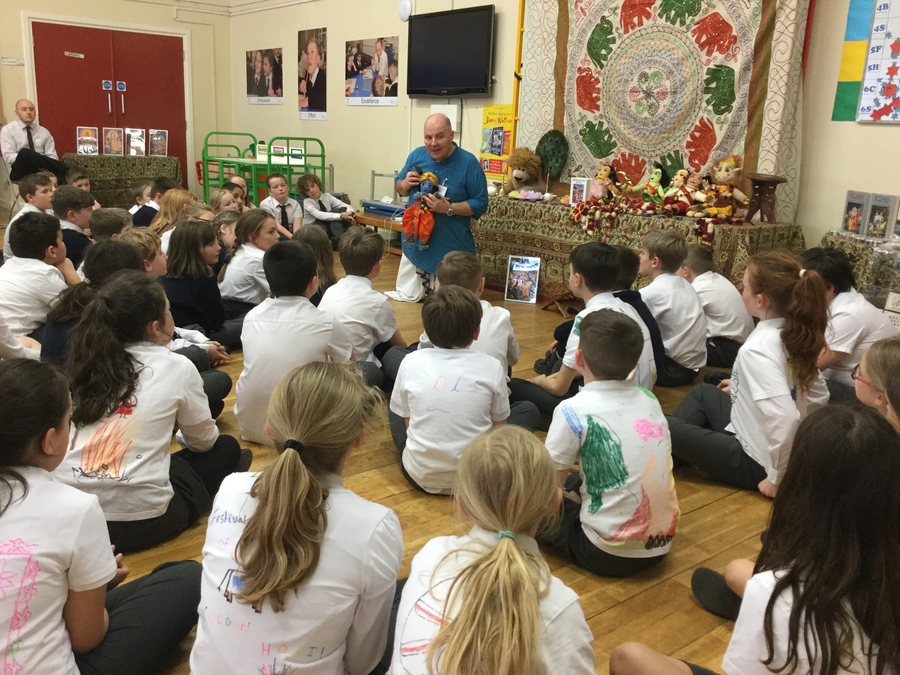 RE - Visit
Today, we were lucky to be able to welcome a lady, who is a practising Muslim, to the class to share information about her religion. She explained about prayer customs and clothing worn. It was great to find out more about the cultural differences between other religions.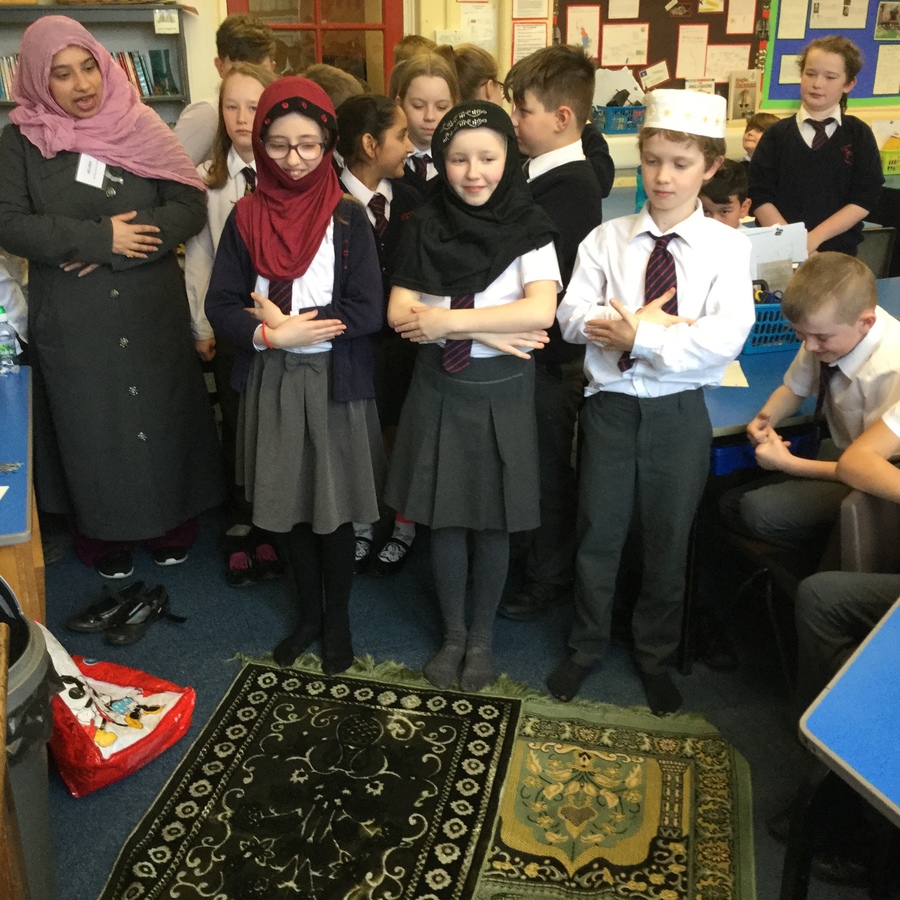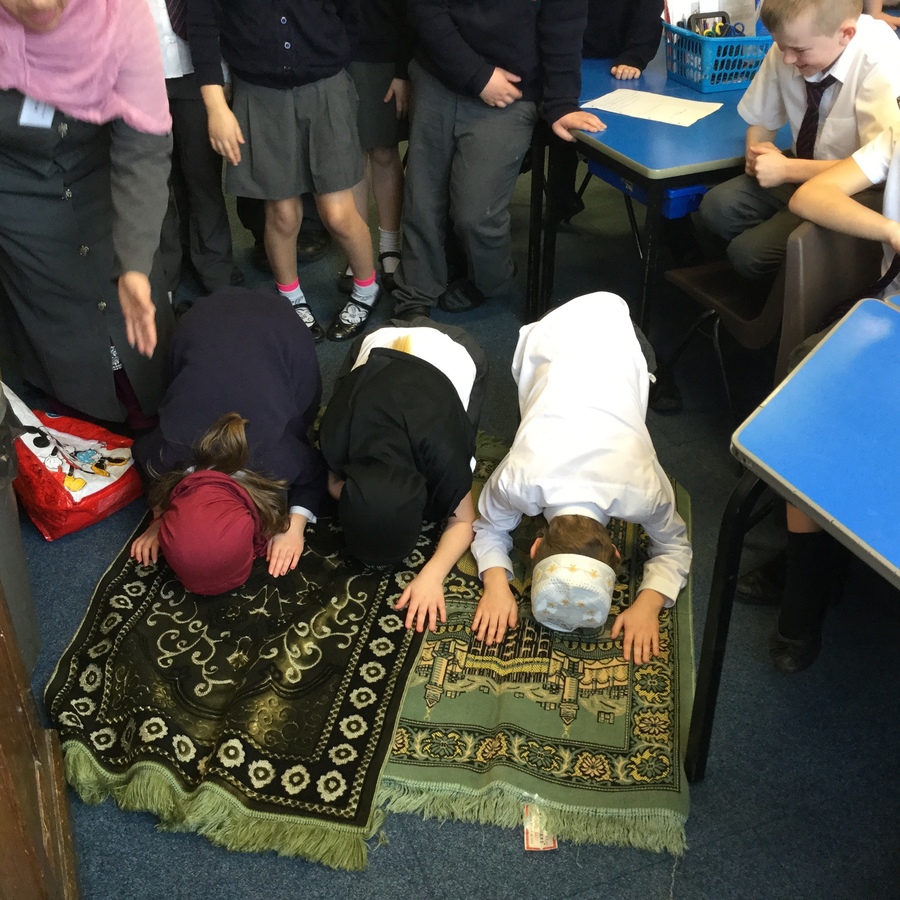 Art - Wax and Heat
We used wax shavings to create an explosive textured effect by sprinkling them on card, ironing them over tracing paper and...voila:
Geography - Visit to Salford Quays (22.2.17)
As part of our topic on Salford Quays, we visited the area to carry out a number of fieldwork tasks. We had already investigated Salford Quay's history as a major industrial area (in fact, it was the 3rd biggest dock in England, importing and exporting goods) before regenerating into a media and tourist attraction with lots of public amenities. Our focus was to carry out a retail survey, sketch many of the iconic architectural buildings and bridges, produce a land use map and ask the general public their opinion from our very own questionnaires. We obtained a lot of information which will be used when back in the classroom. We all had a great and productive day out!
Science - Separating Materials
Mrs Foster created a delightful mixture of water, soil, pasta, rice and a lot of salt. She then asked each group to use any equipment available to separate all the individual items from the mixture. After much deliberation, each group eventually chose the right method at each stage of the separation process:
sieving

filtering

evaporating
Some of the following photographs show that the journey to the correct procedure was a little messy.
Art - Texture
Using glue and brusho paint, we have created effective images showing texture. We also experimented with chalks - smudging them away from a stencil shape.
Discussing, listening to others, making informed decisions, learning from mistakes and hopefully coming up with the correct solution!
Music - Clarinet
Playing the clarinet takes skill and lots of practising at home. We start every lesson with a singing warm up before putting the clarinet together (which is sometimes more complicated to do than playing!) and then going over key notes and tunes. We are definitely improving each week.
DT - Testing bag strengths
We will eventually make our own bags, at the end of this topic so we will be investigating different aspects of bags. We need to find out what makes a bag functional. Our first test was to find out why certain bags are stronger than others. Five well known, high street bags were tested using bricks and very strong rulers to take their weight.
Results: The weakest was the paper Selfridges bag and the strongest was the reinforced Sports Direct bag.
This should help when everyone has to make their own bags - follow guidelines to make them stronger!
Science - Investigating different materials - 10.1.17
We decided to test how quickly water cools in different containers: ceramic, plastic, glass, metal and cardboard. We created a fair test, pouring the same amount of boiling water into each pot containing a thermometer and then timed the temperature drop every 4 mins. It was concluded that the best cup material, to insulate the water, was the cardboard...most coffee shops have obviously done this test too!
Below, you will find a list of Year 5's topics for the Spring term. Yet another veritable smorgasbord of learning!
Texture (Art)
Properties and changes of materials (Science)
A locality study: Salford Quays (Geography)
Bag making (DT)
Crime and punishment in Britain (History)
Musical instruments and genres (French)
Playing the clarinet (Music)
Lacrosse and the haka (PE)
Databases (Computing)
Islam (RE)
English and DT - Performing our own plays with our marionettes - 14.12.16
DT - Puppet making - December 2016
Music - 'Don't Stop Believing' by Journey - 14.10.16
We have studied the style of rock music and used notes on the glockenspiel to accompany this song.
English - Hotseating - 11.10.16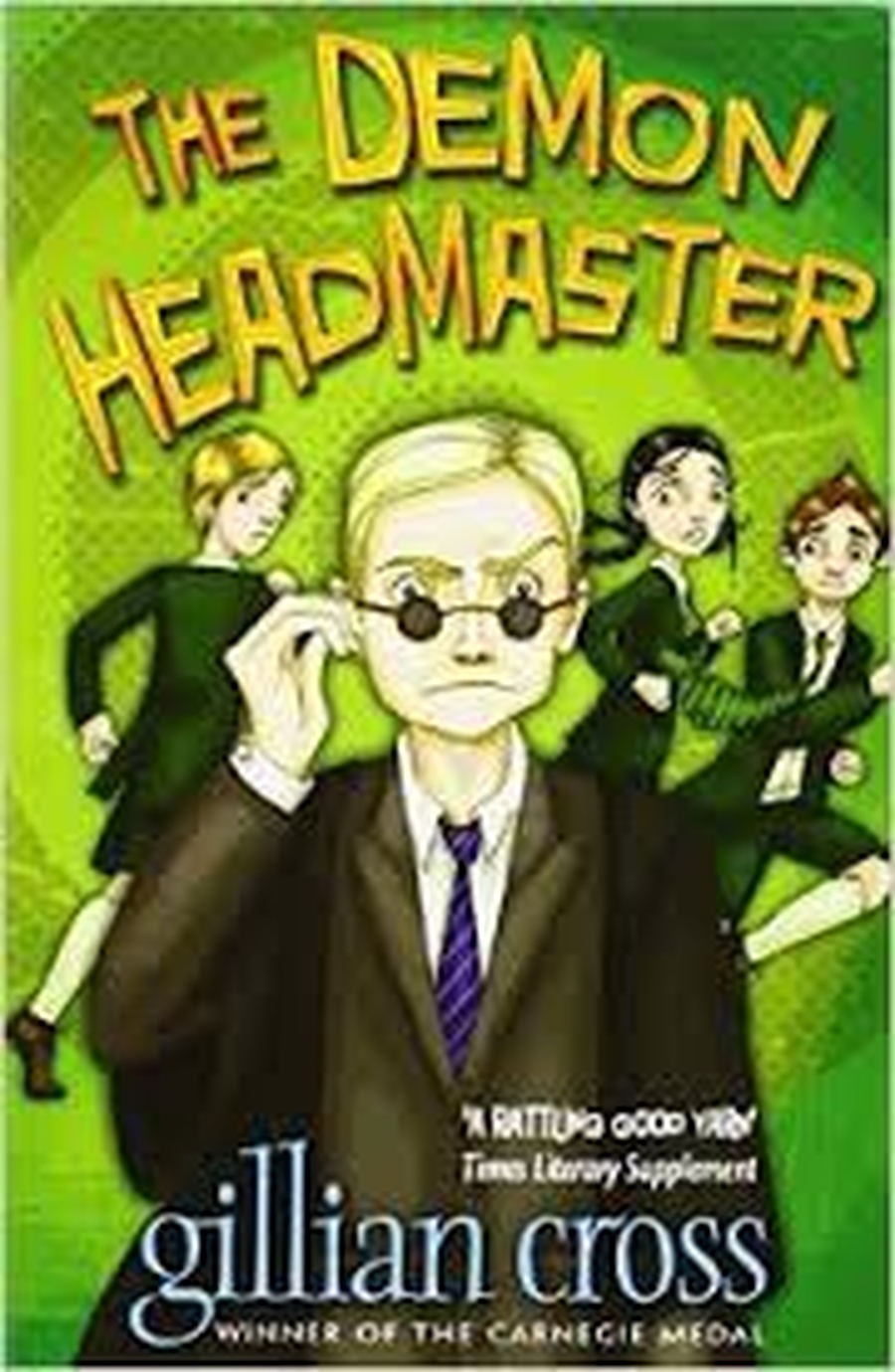 In small groups, we were all given a character from our set text - The Demon Headmaster. We had to think about how the character would react to others, how they would speak and what they might say, Here are some clues relating to six key characters from the book (Dinah, Lloyd, Harvey, Mrs Hunter, the Demon Headmaster and Rose), see if you can match them to the photo:
He/she is shy and quite quiet but has a steely determination and can be a little cunning

He/she is caring and although a little disorganised, shows a lot of love for his/her family

He/she is strict, uses power over others and hides their eyes

He/she is always angry and constantly has a red face showing frustration at others

He/she is quite bossy, ticking off pupils if they misbehave

He/she is fun loving, enjoys reading magazines and is always smiling
DT - Analysing Puppets - 6.10.16
In order for us to decide on which puppets to make, we had to look at the 4 main types of puppets - stick, shadow, hand and string. We focused especially on the materials and how they were joined.
Our Classroom Charter - to improve our health and well being: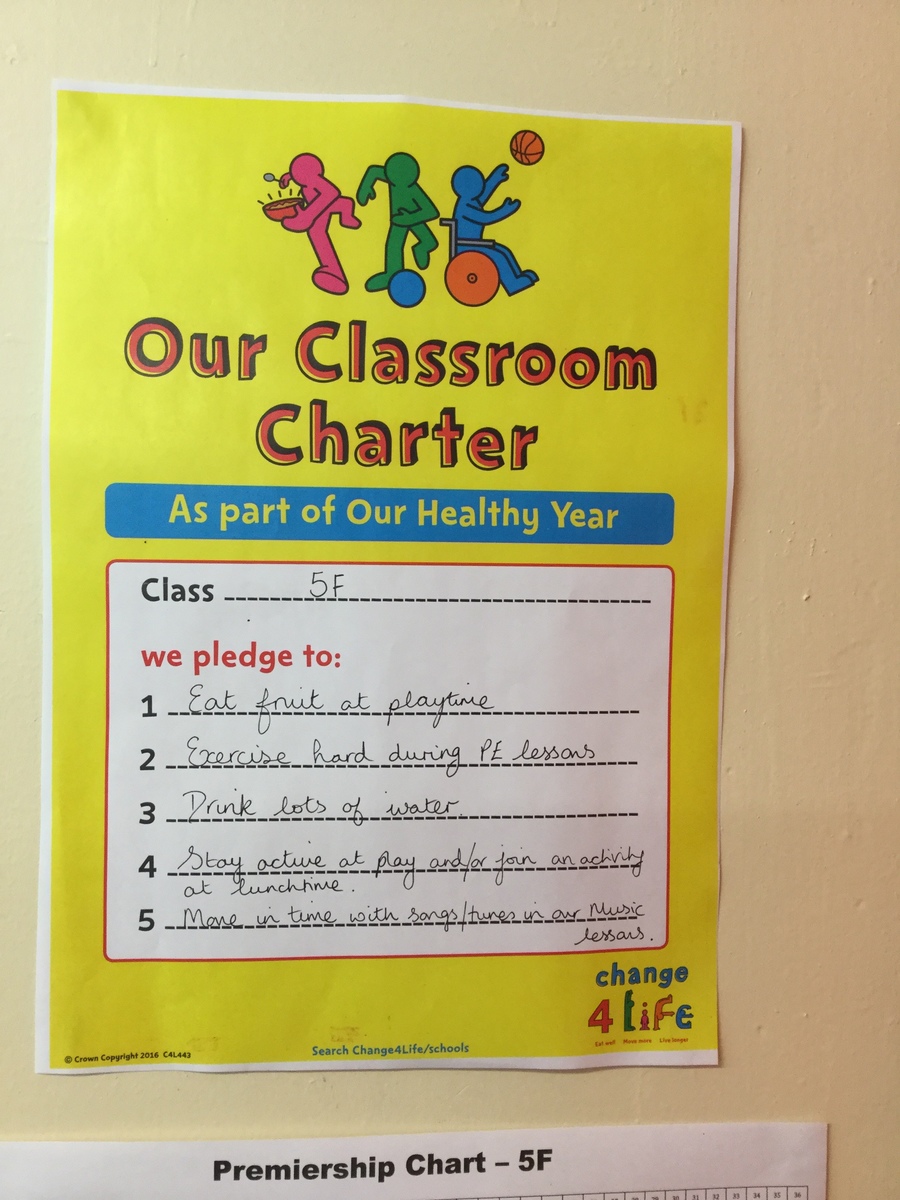 Sponsored Run - a great effort by all of the class!
...this is the 'after' shot: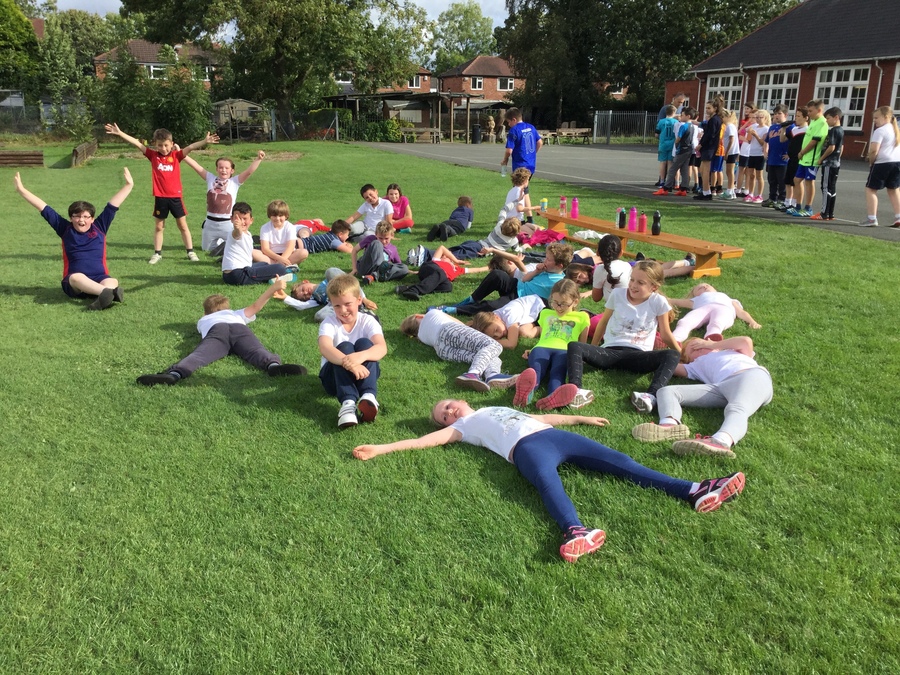 Art - Continuous, Flowing Lines - 28.9.16
As part of our Abstract Art topic, we are developing our understanding of line, shape and colour as artistic concepts. Last week, we identified lines in our environment and, this week, we have produced continuous, flowing lines - similar to contour lines on a map. A great deal of control was needed.
Science - Modelling the Solar System.
We used scaled models of the 8 planets of the Solar System and placed them the correct distance apart, again scaled down.
This is what is in store for Year 5, this term:
Abstract Drawing/Painting (Art)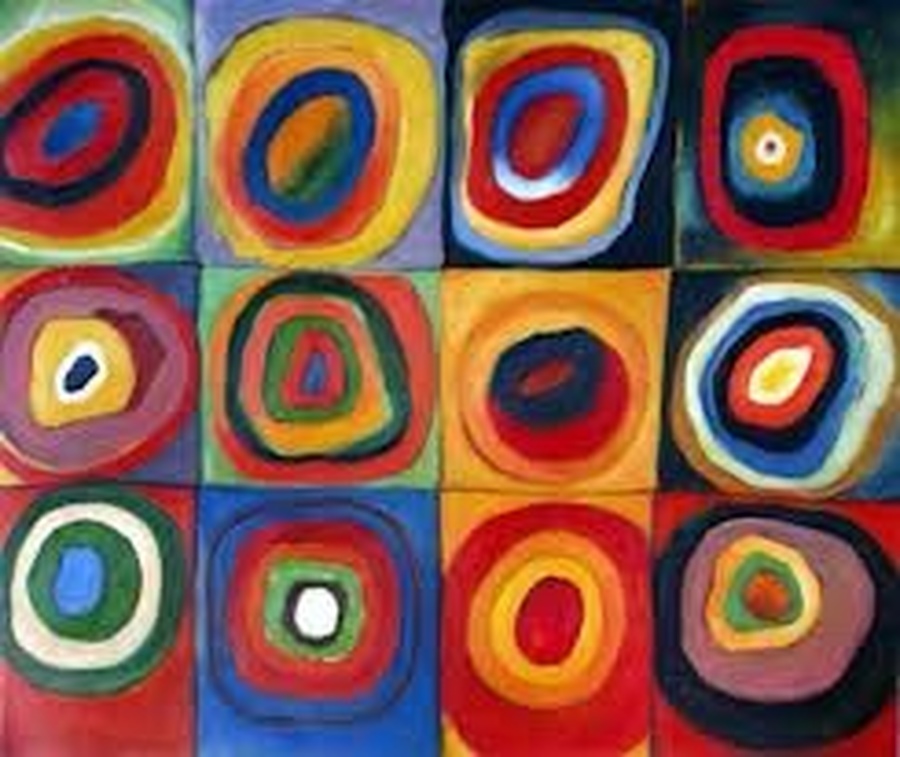 Polar Regions (Geography)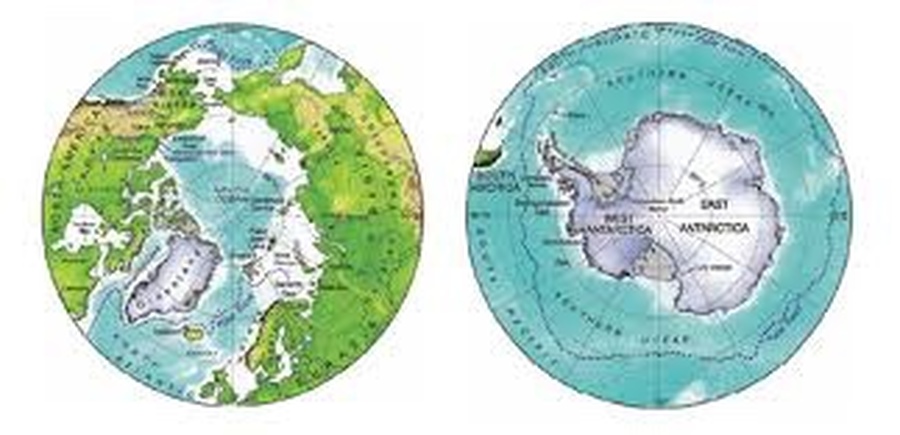 Earth and Space (Science)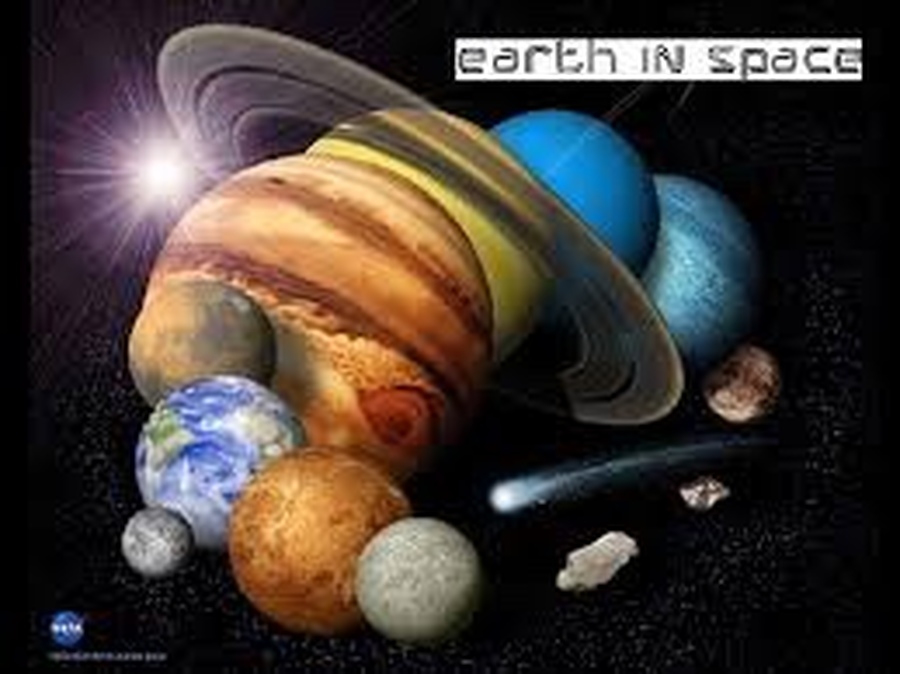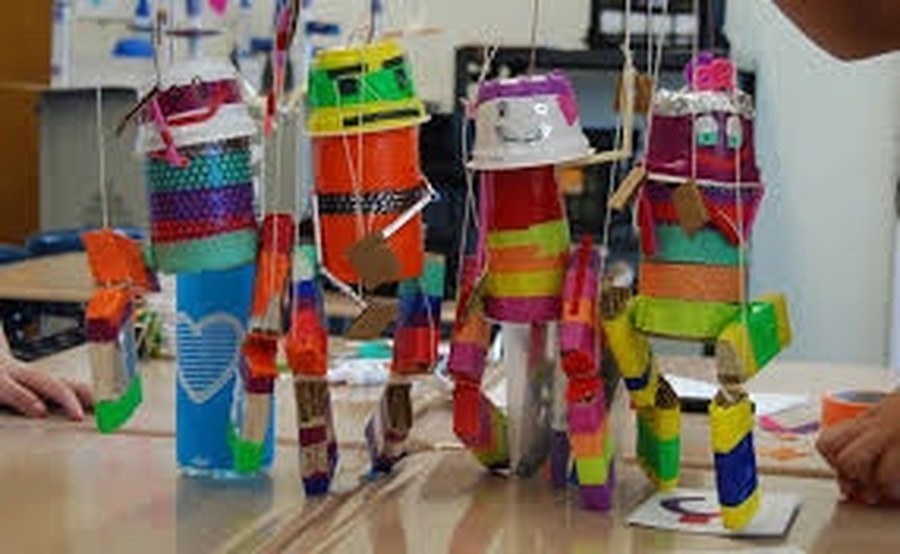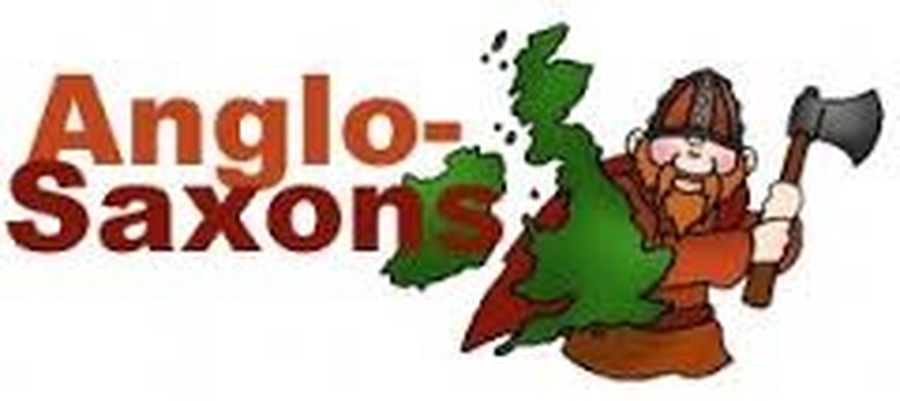 Weather & Countries (French)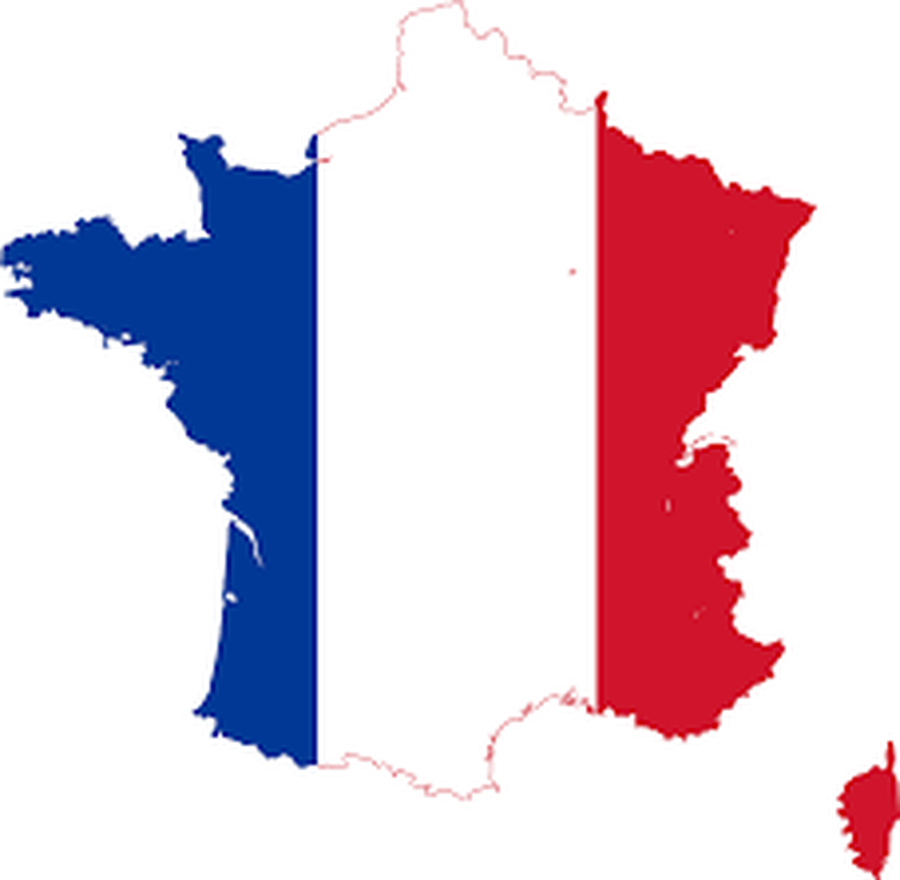 Appraising and Playing 'Don't Stop Believin' by Journey (Music)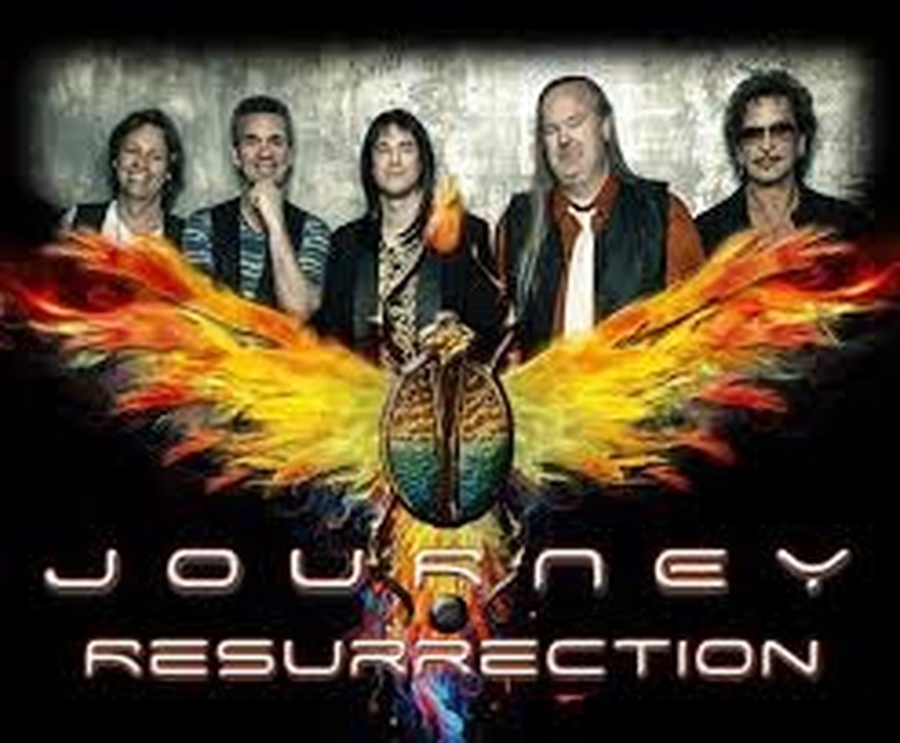 Netball and swimming (PE)